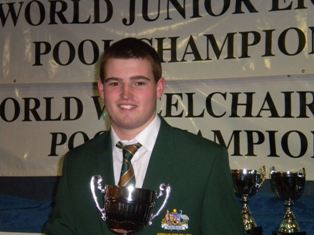 World Eightball Pool Federation Junior World Championships 2010 sponsored by Strachan.
Held at Barcelo Imperial Hotel, Blackpool, England
Exciting times for young Australian, Anthony Adams.
17 year old Anthony Adams from New Norfolk, Tasmania is really showing his talent at the WEPF Junior World Championships being held in Blackpool, England.
After a flying start in Round 1 beating Lee Moran of the Channel Islands 6-0, Anthony then went on to whitewash Ciaran Fay of Ireland in the last
32 draw. With his second 6-0 win under his belt the young Australian player was drawn against another Channel Islander, Matt Barker. Unfortunately for Barker, Adams was again showing his superb form and the match finished with a 6-1 scoreline.
Still marching on, in the quarter final Anthony was drawn against the 2009 runner up Giuseppe D'Imperio who put up a gallant battle but eventually succumbed 7-4 to the Australian.
The semi final saw Adams facing Callum Singleton of England, again Anthony showed great strength and potting ability to guarantee his place in the Junior World Championship final by winning 7-5.
His opponent, an up and coming young star from England, Frank Costello, battled hard and eventually triumphed 8-4 to secure the crown and become the
2010 WEPF Junior World Champion.
Anthony's team manager, Warren Ross said that Anthony played exceptionally well to reach the Junior World final. Much of the credit, he went on to say, of Anthony's development into such a proficient pool player capable of playing at this level should go to his Junior Development Coach, Cyril Triffitt.
Young Adams should be very proud of his achievement in this prestigious event.