Details

Category: Results / Events 2013
Hits: 1335
Gregg Watt - Inducted AEBF's "Hall of Fame"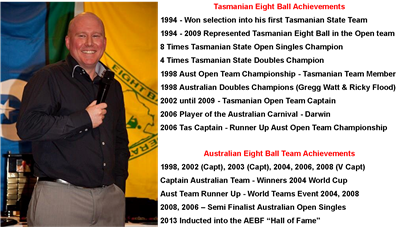 At the recent Australian National Titles in Perth, Tasmania's Gregg Watt
was inducted into the Australian Eight Ball Federation's Hall of Fame.
Gregg is the first Tasmanian to recieve this honour.
Details

Category: Results / Events 2013
Hits: 1934
2013 Australian 8 Ball Championships
Kings Hotel - Perth Western Australia - October 14th - 25th
Tasmanian Australian 8 Ball Team Selections
At the recent Aust Championships Tasmania had three (3) representatives win Australian Medals with selection in their respective teams.
Justin Van Diepen was selected in the Open Team after a great championship where he made the semi finals of the Open Singles losing to Ben Nunan.
Denise Millington & Fiona Flummer were rewarded with selection after guiding Tassie into the Semi Finals of the Ladies Event.
Denise & Fiona with their Australian Team Medals
Click on the Links Below for detailed Results
2014 Tasmanian Junior 8 Ball Team
Melbourne Victoria - 8th -15th January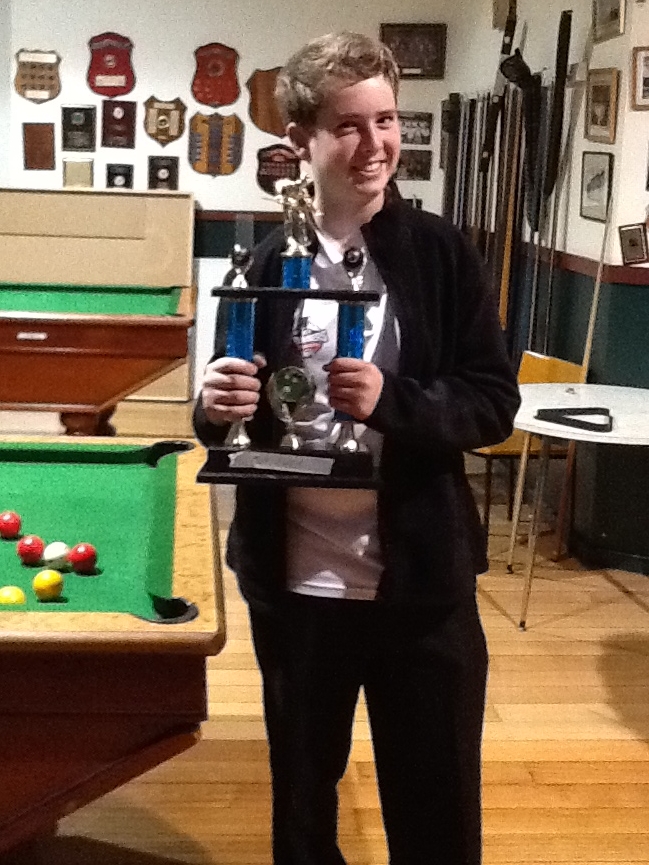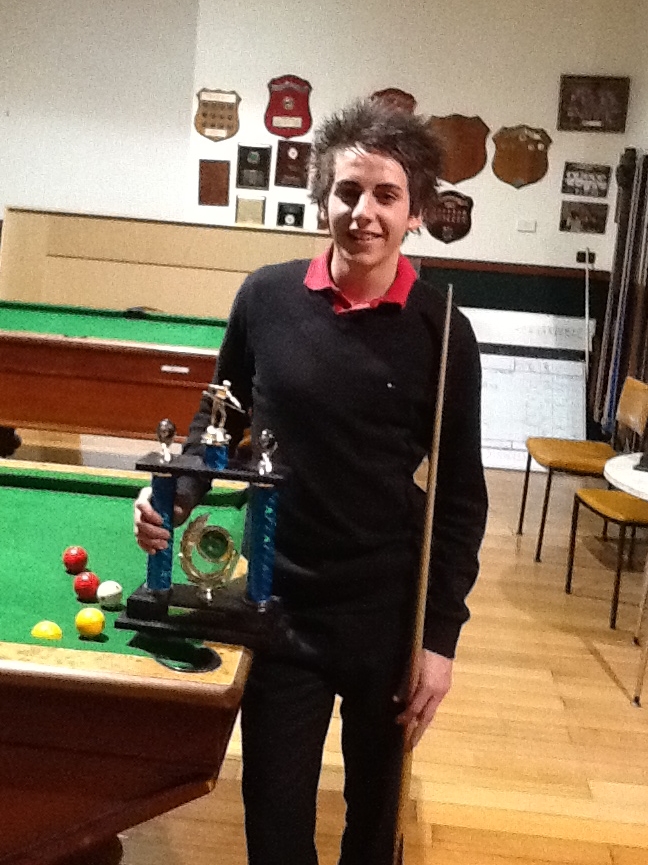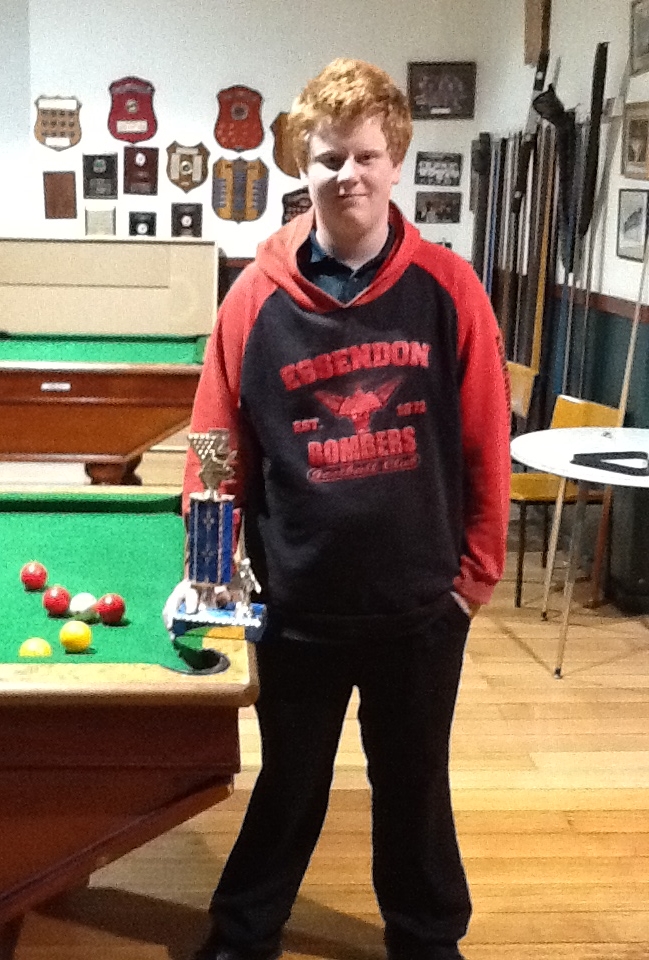 Alex Pace Cale Barrett Jacob Marshall
Under 12's Under 15's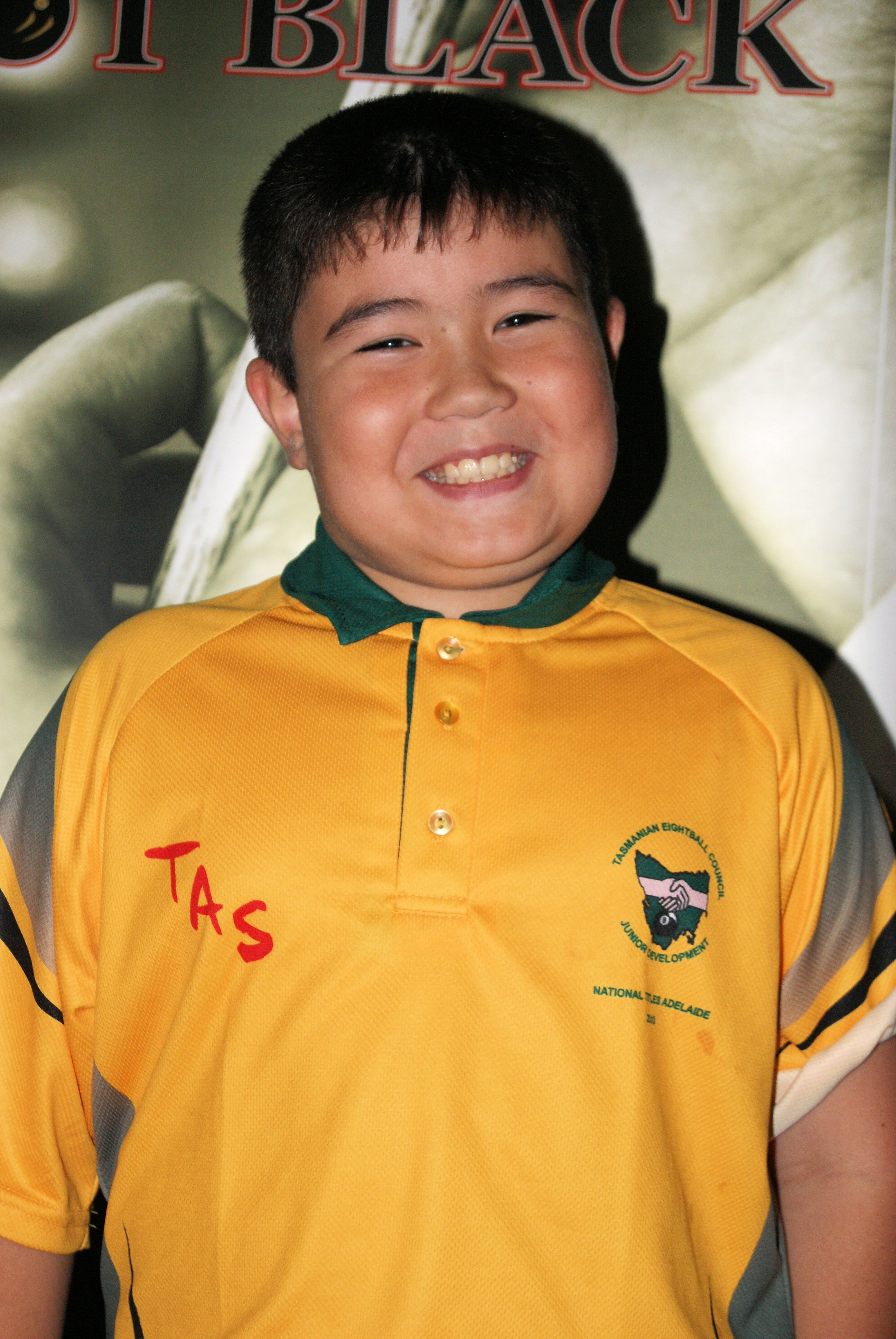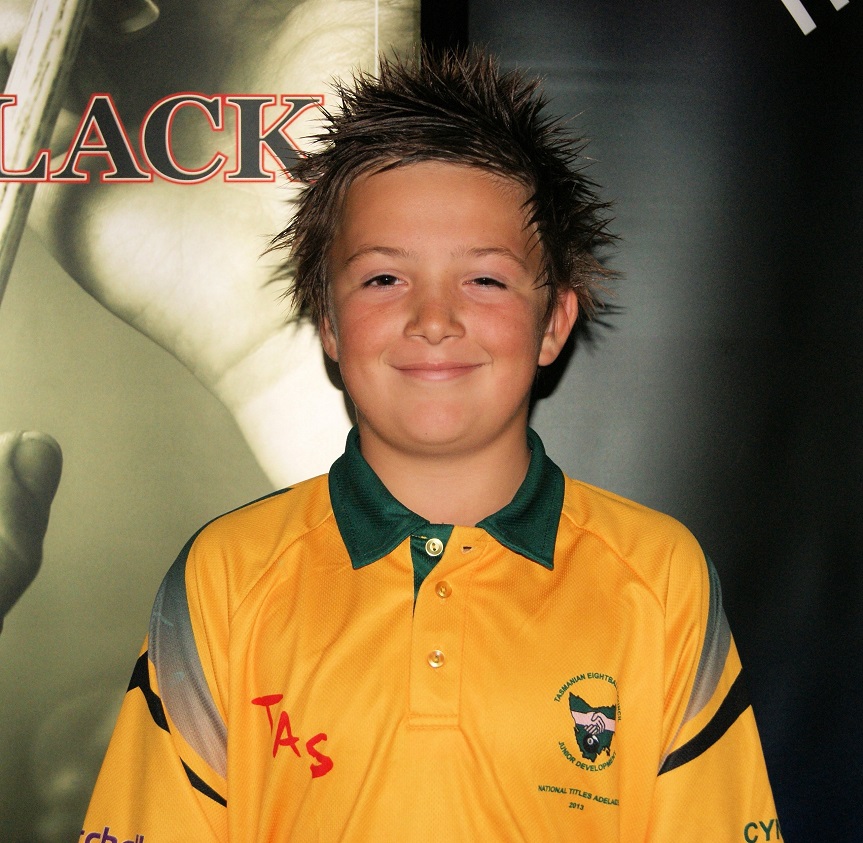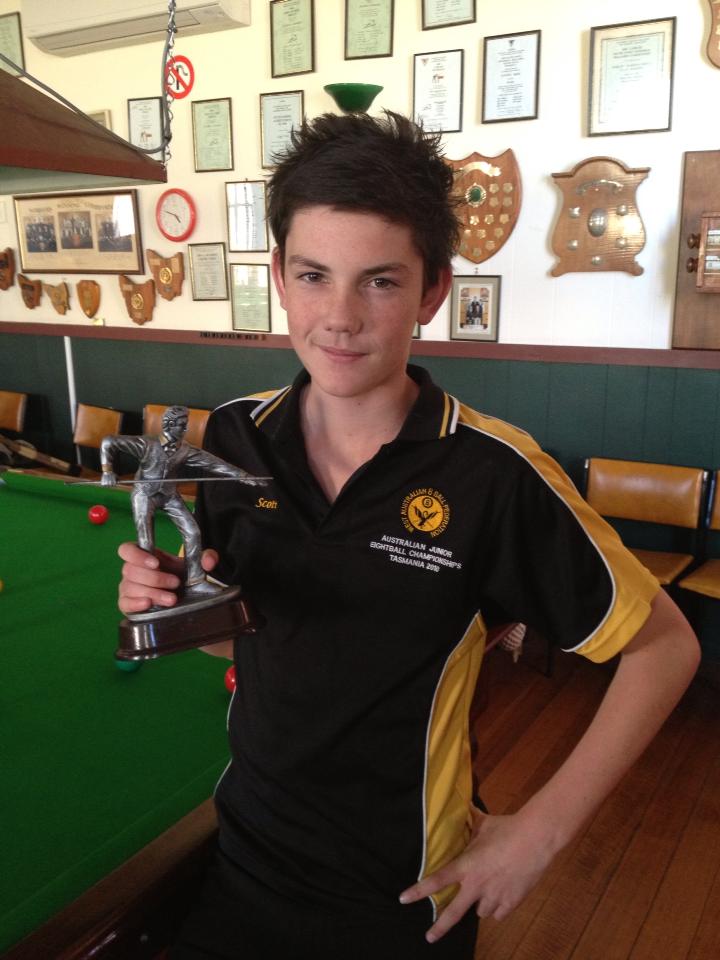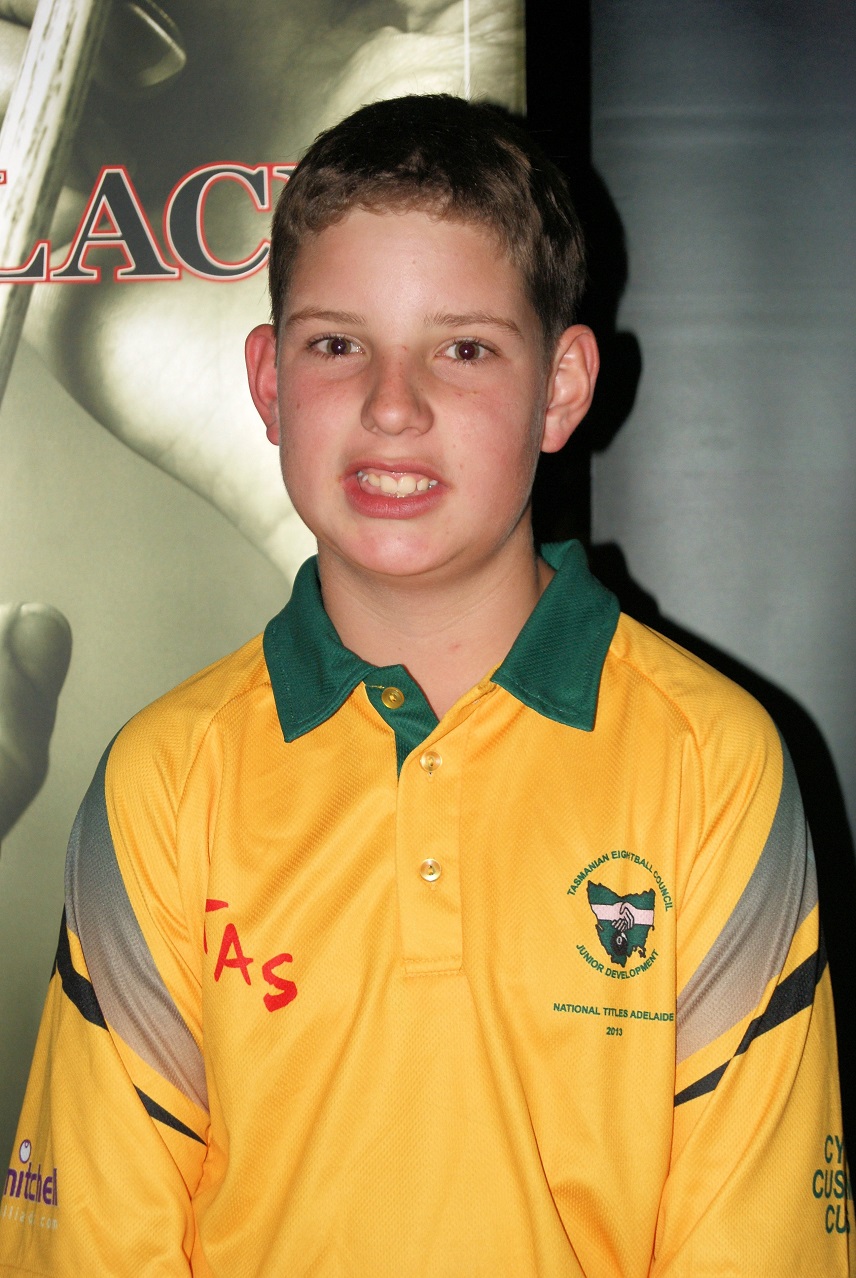 Ollie Lockley Jonty McIvor Brodie Stubbs Cooper Denman
Details

Category: Results / Events 2013
Hits: 1325
2013 State Open Doubles Champions
Cale Barrett & Tim Wright
Troy Rudling, Tim Wright, Andrew Saltmarsh, Cale Barrett
Details

Category: Results / Events 2013
Hits: 1491
Justin Van Diepen (Capt),
Troy Rudling (V Capt),
Leigh Bennett
Stephen Kaine
, Blair Kirkcaldy, Paul Miller, Peter Kirkcaldy
Nel Nichols, Scott Hampton
Team Manager - Phil Dando
2013 Tasmanian Ladies Team
Fiona Plummer (Capt),
Michelle Grundy
(V Capt)
Denise Millington, Tania McClure
, Jo Brown
Tracey Baylis, Marie Hau Vu
2013 Tasmanian Masters Team
Grant Lee (Capt),
Bruce Lockley (V Capt),
Terry Easther
Geoff Stonehouse
, Rodney Kaine
Details

Category: Results / Events 2013
Hits: 1483
2013 Australian Junior Billiards &
Snooker Championship
The Matchroom - Adelaide 30th
June - 5th July
Tasmania retains the Australian Junior Team Challenge defeating WA 3 - 2
Great effort from the boy's to retain the Australian title they won last year, especially considering they had to forfeit two games

.
Joshua Burns - Runner Up Australian Under 15 Billiards
Joshua had a great competition but was unable to defend his U15 National Title he won last year, losing in the
Final, but a huge effort and Josh certainly has a huge future in the game
Cale Barrett - Australian Under 18 Billiards Champion
Details

Category: Results / Events 2013
Hits: 1926
Western Australia from 14th - 25th October 2013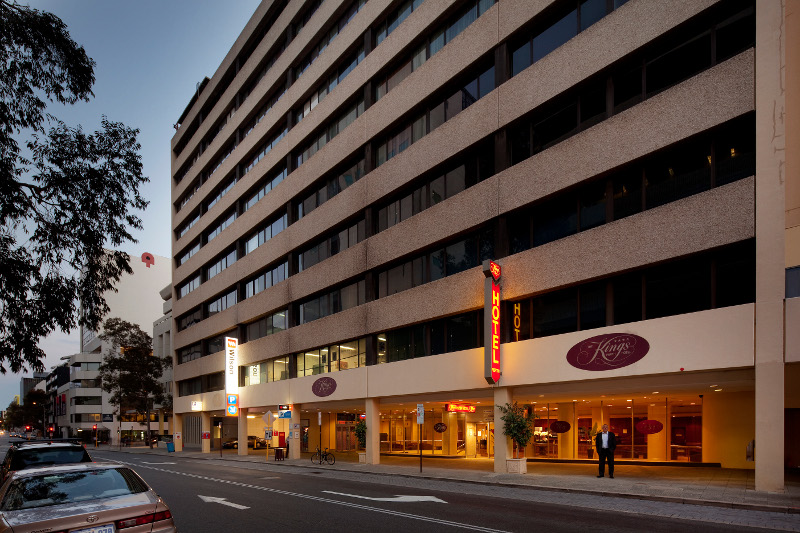 525 Hay Street (cnr Pier St) Perth
Western Australia
http://www.kingshotel.com.au/
Details

Category: Results / Events 2013
Hits: 1757
Results Open Team Qualifiers
Final Weekend - July 13th & 14th
End of Weekend No 2 - June 22nd & 23rd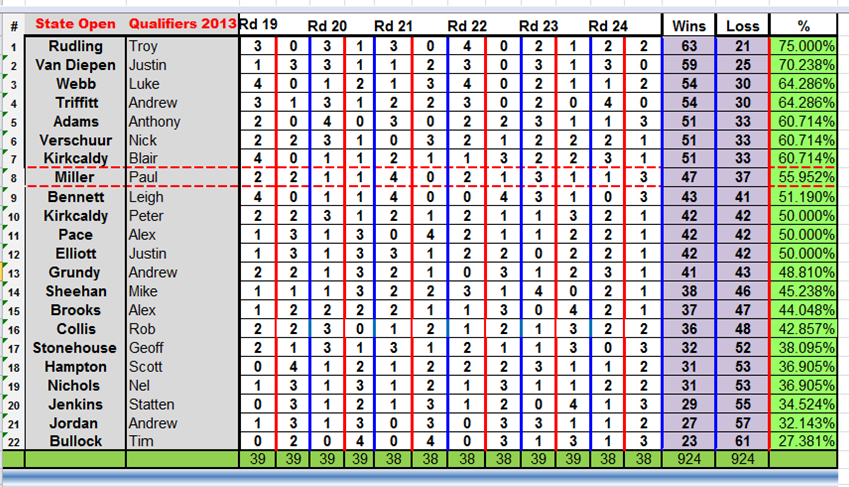 Weekend No 1 - May 25th & 26th

Details

Written by

Andrew S

Category: Results / Events 2013
Hits: 1398
B Grade Teams Event 013
This year Eightball Tasmania are holding a Teams Event aimed at associations entering B Grade Teams (No A Grade Players Please)
The event is open to all member associations of Eightball Tasmania and only 5 players are required per team, with no limit on the amount of players in a team
We have the event down to be played over the June long-weekend June 9, 10 and 11 at the Launceston Workers Club (Please Note the Monday may not be used depending on the amount of teams entered, to be confirmed once teams are finalised)
Please view the flyer attached for more information or This email address is being protected from spambots. You need JavaScript enabled to view it.
Associations can enter their team online by clicking this link -- B Grade Teams Event Entry
Details

Written by

Andrew S

Category: Results / Events 2013
Hits: 1543
CANCELLED - THURSDAY - 11/4/1
DUE TO LACK OF OFFICIAL ENTRIES RECEIVED

1,400.00 in Prize Money
The Annual 2013 State 8Ball Calcutta will be held on Saturday April 13th at the LWC starting at 9.45am
*The draw is limited to 32 players and will be in the format of a double elimination, with the first Round being Best of 5 Frames
The winner and runner up from last years event will be seeded 1 and 2
The total prize money will be $1,400.00 (based on 32 starters) and the pay out schedule is on the entry form
Entries for the event are taken on a first in basis, with paid entries taking preference over all entries received
Help support Eightball Tasmania - All Funds raised for the day go towards the 2013 State Team
Download Entry Form Below (Yes I know it's the same form we always use, but it works)
Details

Category: Results / Events 2013
Hits: 3370
2013 State Teams Event Champions - Beltana GTR's
Rob McCauley, Doug Goss, Cyril Triffitt (Capt), Les Allie, Wayne Paul
Anthony Adams, Ben McCauley & Chris Daly
This year the State Teams Event was won by the Beltana GTR's who were representing the SETEBA. They won the final in a playoff 3-2 against the HWC Niners after the final ended 15-15.
It shows just how close this years event was with a playoff required to find the 3rd placed team after The Waggon & last years winners the Burnie Combers ended up all even at the completition of the round robin. They had to play a best of 17 frame playoff with the Burnie Combers getting up 9-8 and earned the right to meet the HWC Niners in the decider to see who would meet the top of the table Beltana GTR's. The HWC Niners prevailed in a great match 16-14. The final was a great match and eventually the Beltana came away with their first ever State Teams Event trophy. It was a great weekend of 8 Ball and just shows how close all the top teams around Tasmania are.
The Player of The Teams Event - Marcus Jackson (Played 24 - Won 21 = 87.50%)